Sunday 2nd October 2016
2016 Start times and lane numbers
We've had a few requests to see how people did in their respective Age Groups. See Excel file below for results arranged per AG using the M/F filter for Male Female categories.
The event comprises a 400m Pool swim – followed by a 20km cycle leg – and on to a 5km run.
Ideal for newcomers to the sport and experienced triathletes alike.
The Homecrafts (Goole) Sprint Triathlon Race Information
The race takes place at the
Goole Leisure Centre
North St, Town Center, Goole DN14 5QX)
Timetable
Race Registration: Saturday 14:00 – 16:00 and Sunday 6:00am – 7:20am
Transition opens 06:00
Race Briefing: 7:30am (Transition Closes)
Race Begins (Wave 1): 8:00am
Once you have registered you will then need to prepare yourself for the race which if you are new to triathlon can sometimes seem a little bit daunting, but really there is no need to worry and you will find people will help you if you are not sure.
Step 1: Register and collect your chip for timing and numbers; place one sticker on your bike, one on your helmet. You will be given two race numbers one for your back when on the bike and one for your front on the run. If you get a race belt then you just need one number and this can be switched round as you head out on the run.
Step 2: Time to go and rack your bike in the allocated spot and place all your items you need in transition
Step 3: Listen to the Race Briefing!, this will explain the course and rules you need to follow. We will also make you aware of any particular hazards on the course.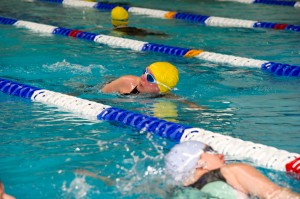 Step 4 (The Swim): In the week leading up to the race we will issue a start sheet which will give you your allocated race number and start time. Your start time is based upon your swim time and is purely to  ensure you are in a wave with people of a similar swim time which reduces the amount of passing in the swim lanes. If you think your swim time has changed significantly since entering then feel free to let us know. Please make your way to the pool 10 minutes before your allocated start time where you will be issued a coloured swim hat and lane. When you have done your 16 lengths then leave the pool safely (no running until you are out of the pool area), you can do this in bare feet.

Step 5 (The Bike): Having left the pool you will now head into transition (T1) to collect your bike,ensure that your helmet is on and fastened before touching your bike and then wheel your bike to the mount line outside the transition area before getting on your bike. Head out towards the roundabout to complete the bike course. You are responsible for riding the course safely and in accordance with the Highway Code.
Please note marshals are there to give directions only and not stop the traffic. Don't take risks!!
Step 6 (The Run): On entering leisure centre dismount your bike before the dismount line and wheel your bike into transition (T2) and rack your bike (before unfastening your helmet!) and then get yourself ready for the run. The run is very simple and follows the river bank up to a turn point and then simply back to the finish. The path is a mixture of tarmac and grass, but is fairly flat. Remember to enjoy your race and don't rush your transition!! Feel free to leave comments below asking questions or even giving your own useful tips for race day.
Prepare for all weathers 
Please bring suitable clothing for all conditions Sun, Rain and Fog as with early morning starts this time of year the fog can be quite thick making visibility on the bike poor. Ideally a set of lights on your bike is advised but not compulsory
Presentation
Will take place as soon as possible at the finish line area after the last finisher (indoors if raining).
Trophies and prizes will be awarded to overall Male and Female 1,2,3 and all BTF AG winners will be awarded a trophy.
Results
Results will be online sometime Sunday evening
Thanks for Reading The Event Team!